Visit photo collection : https://vitrinesenconfinement.huma-num.fr/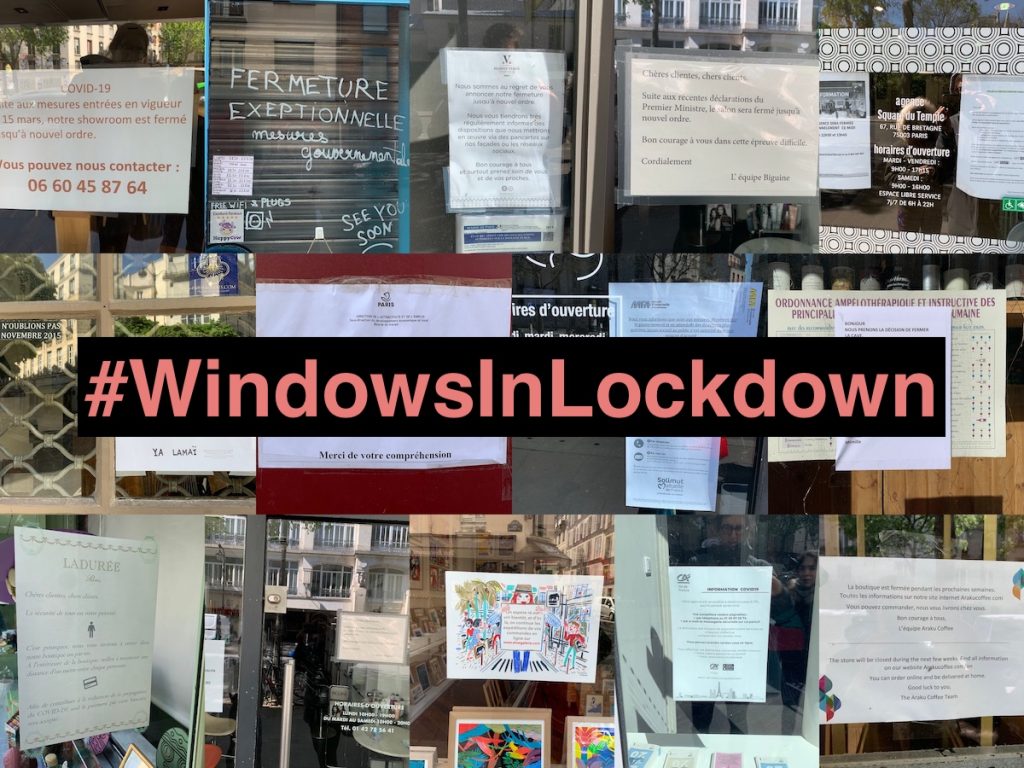 How do we talk about confinement? What words and phrases do we use? Who do we declare responsible for the decision to call a lockdown that confines us to our homes and severely restricts our movements? What kind of traces will we keep to remember this period by in the future? The goal of this collaborative challenge "Windows on Confinement" is to systematically take photos of the messages that we observe in the public space, in shop-windows, or on public buildings, during the brief outings we are allowed, and then share them on social networks (#WindowsInLockdown)  or on a collaborative platform (https://vitrinesenconfinement.gogocarto.fr/).
Each contribution must record the date, the specific adress (dtreet name, city, country), the location (shop/public space/private window/graffiti), the activity that normally takes place here and, if possible, the text of the sign re-transcribed.
This collection will help us to build a memory of our neighbourhoods during the lockdown. This corpus will be analysed and the photos will be stored to constitute a record of this period, a heritage for the future.
How does it work?
TWITTER – you can tweet your photo with the hashtag #windowsinlockdown
INSTAGRAM – you can post your photo with the hashtag #windowsinlockdown
FACEBOOK – you can post your photo and the information associated with it in the public group https://www.facebook.com/groups/windowsinlockdown/, along with the hashtag #windowsinlockdown
PLATFORM – https://vitrinesenconfinement.gogocarto.fr/ (Given the global nature of the pandemic we decided to map the words of the lockdown on one and only map of the world)
EMAIL : vitrinesenconfinement@protonmail.fr
Please include the following information:
Date of photograph: DAY/MONTH
Type of building: shop/public building/graffiti/private window
Type of activity: food, health, restaurant, sport, association, …
The adress (street, postal code, city)
Rules
About the photo
Take a close-up, being careful of any reflections from windows and other glass surfaces, and where possible make sure the text is legible.
In the post/description, record what kind of business it is, the address, and the date of the photo. If possible, re-write the text of the message in the photo. You can also add any relevant comments.
Rights
By contributing to this Facebook group and the collaborative challenge "WindowsInConfinement", you agree to contribute your photograph free of copyright. The members of the FB group and the participants of the website will be informed if the photographs are used later. Any future usage will be non-commercial and will not give rise to any remuneration
Collection
Collected photos are published in an online archive https://vitrinesenconfinement.huma-num.fr/
Credits
The collaborative project « WindowsInLockdown » is carried out by a research team from the CNRS (National Center for Scientific Research) and the University of Paris Nanterre. You can contact us on: vitrinesenconfinement@protonmail.com
A project led by Sarah Gensburger (ISP / CNRS) and Marta Severo (Dicen-IDF / Université Paris Nanterre).